The hazard of finding an author you like whose work is prolific is that sometimes you find yourself disappointed. I'll explain by giving a specific example: Agatha Christie. With 66 novels, 156 short stories, about two dozen plays (though some were based on aforesaid novels and short stories), and even a few nonfiction books, the odds are that even though I may love many of her novels, there are a few that will fall through the appreciation cracks.
It's easy to understand how this happens. As a rule I'm not drawn to an author once I know they've written over a hundred works, figuring such a behemoth of work has probably resulted in a dilution of style, characterization, and plot. Quality is sacrifice for quantity. In fact if I see a book whose author's name is larger than the title, I usually steer clear of it. A novel should rest on the merits of its title and plot alone, not on the name of the author. Marketing around an author's name excludes new readers who may not know Agatha Christie is a master mystery novelist as opposed to some woman with two first names.*
The other reason this tends to happen is because an author gets "typecast" and stuck writing the same types of things, and when they start to get sick of it their prose suffers as a result. Christie notoriously got sick of writing Hercule Poirot, just as Arthur Conan Doyle got sick of Sherlock Holmes. The creative writer in them may have longed to try something else, but these series were what put food on the table so they were compelled to continue long after their excitement of writing these stories was depleted.
So while I was recently reminded of how there can be a wide disparity in quality when an author is prolific, I wasn't all that surprised. The two books were Christie mysteries from her two most famous detective series:
Elephants Can Remember
features the odd little Belgian detective Hercule Poirot, and
The Moving Finger
is nominally a Miss Marple installment, despite the fact that the little old lady appears in a very small percentage of the actual plot.
Now given the choice between the two just knowing this much, I'd have expected to like the Poirot mystery more.
Firstly, because both these detectives are eccentric "unlikely hero" types, they can veer into annoying habits sometimes, and I find Miss Marple more annoying than Poirot when this happens. I also knew Ariadne Oliver, a recurring sidekick of Poirot's who shares suspiciously similar parallels with Agatha Christie's real life.
Secondly, The Moving Finger was an audio book, and I usually am annoyed by the voice actor who snips and simpers their voice to do an old lady impression.
Thirdly, I actually bought Elephants Can Remember at a bag sale this summer at a library along with several other Christie conquests, and hoped to like it in order to make the purchase worthwhile.**
However it turned out I preferred the Marple over the Poirot in this rare instance. To my surprise the audio book reader was a man, and The Moving Finger is practically one of the stand-alone mysteries , as Miss Marple appears almost as an afterthought and really could have been left out of the plot. This was almost the clincher of my loving this novel, because in general I tend to like Christie's few stand-alones (such as And Then There Were None and The Man in the Brown Suit) better compared to her many series. The Moving Finger is the story of a man convalescing from a plane accident, who moves with his sister to a small town that seems so innocent and friendly at first…until they begin to receive obscene and threatening anonymous letters, and find out the entire town has been getting them. The quaint country village takes on an air of paranoia, showing that fear and suspicion can get the better of even the kindest human natures. Miss Marple stories tend to focus more on the nature of evil in humanity, not only the emotional but also the spiritual roots of wickedness, whereas Poirot tends toward the more psychological analysis of crime.
Elephants Can Remember is an awesome title in my humble opinion, but sadly my copy suffers from a rather overdone 70's style cover that does little to arrest the interest of the reader: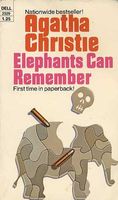 It all makes sense in context. Except for the skull. Sadly it looks like most newer covers have copied this "elephant and puzzle pieces" motif. I'm no cover designer, but I think puzzle pieces should be avoided for all mystery novel covers since puzzles technically could apply for most, if not all, mystery novels. It's like a romance novel with hearts on the cover. Stop stating the obvious and go for classy subtlety!
Source: http://www.fictiondb.com/coversth/th_0440123291.jpg
...Although I suppose I should be thankful it wasn't this cover:
I stand corrected. I would gladly cover this cover with puzzle pieces if it meant I didn't have to look at it anymore.
Also, both these covers claim to be "the first time in paperback." Come now. One must surely be lying. Call Hercule Poirot to investigate post-haste!
Source: http://www.detective-fiction.com/4salepix/christieelephantspb.jpg
As I said before, it involves a mystery co-investigated by Poirot and Ariadne Oliver, after Oliver is confronted at a literary party about a murder-suicide that happened in the past. The reason this plot doesn't work is that Christie works beneath her usual talents, incorporating melodramatic clichés and making the solution pretty obvious in comparison to other Poirot stories that have kept me guessing and discombobulated until the last chapter.
Another reason why this felt inferior is because it was missing thematic weight: where The Moving Finger delved into how an idyllic community can be torn apart and corrupted by anonymous accusations and the whispers of gossip. Elephants Can Remember repeats over and over people's ability to remember "like elephants," but doesn't go much deeper. Christie is famous for incorporating literary quotations or nursery rhymes into her titles and themes, and Poirot himself sometimes solves mysteries by imposing these rhymes onto the crime (as with Five Little Pigs), but this "Elephants Remember" comes off as clumsy and stilted.
So while I may not end up keeping Elephants Can Remember on my shelf, I will at least take comfort in the knowledge that its absence will make room for The Moving Finger.
*Seriously. Sometimes library filing systems are confusing. "Christie, Agatha," "Alexander, Lloyd," "Hugo, Victor," are all examples of how it can be hard to find an author when the reader is not yet fully familiar with even their name.
**Though as a very small paperback amongst about 24 other books in a bag for $20 a bag, this was almost a freebie more than a "purchase."